Products Page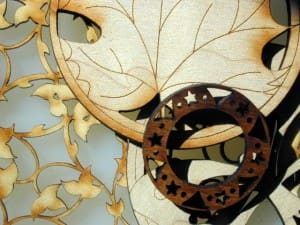 These are strip over runs and left overs from customers. Some have small line flaws or color variances. Ranging from backstrips, binding to inlay banding, they are a bargain!
Zipper pattern  maple/black/maple 24/20/12 x .130″ x 22.5″, Overall dimensions: W= .235″ - .245″  T= .130″ L= 22.5″
Black fiber/Maple 20/20 Zipper w/ Blk fiber 20 / Mpl 10 outside x .080″ x 22.5″, bundle of 15 pcs.

White fiber .030″ x .200″ x 22.5″, bundle of 100 pieces
More Details
White is "off", slightly yellowed
Mpl/Wal/Blk fiber Washburn pattern strip, .180″ x .120″ x 35.5″, bundle of 18 pcs.
**SEE NOTES**
More Details
These strips are perfect for a backstrip and end graft purfling. Strips do not bend easily so are better suited for inlay material.
Washburn Style Checker Purfling Part A - B/Mpl 10/20 Outside / Rope -BMpl (.020″ fine) x .035″/Squares -Mpl/Wal/B .060 x .040″H. x .085 x 34.5″, bundle of 24 pcs.
More Details

Walnut and white fiber roping,  (.110) with black .015″ on both sides x .060″ x 34.5″, bundle of 31 pcs.
More Details
***PLEASE NOTE*** Some strips may have minor flaws such as a rough outer edge or white accent lines that appear thinner than others.

Rosewood/maple ladder pattern with red and black accents in core, exterior lines consist of red maple and veneer and black fiber - Bundle of 15 strips
Dimensions: .040" x .375" x 36"
Whoops! We accidentally left out the maple accents in the core.
Tortoise celluloid (.060″) w/a clear protective laminate (.010″) on one side, overall dimensions .070″ x .250″ x 33″, bundle of 50 pcs.
Remember! There is a $50.00 minimum purchase when

ordering online

.
Online items are either in-stock and/or not subject to a drawing fee.
All other items may be considered custom.