Products Page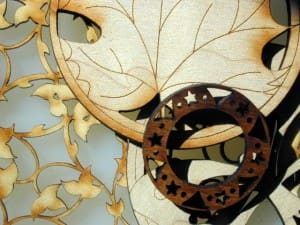 These are strip over runs and left overs from customers. Some have small line flaws or color variances. Ranging from backstrips, binding to inlay banding, they are a bargain!

Black and maple furniture zipper - .150″ x  .020″ x  22″ - bundle of  29 pieces
More Details
ragged edges, imperfections in pattern, great for use as inlay banding on woodworking projects, really thin and flexible

Black/maple J-200-style ladder pattern inlay strip with alternating large/small rectangles, bordered by black and maple exterior lines - bundle of 20 pieces
Dimensions: .215″ overall width (5.4mm) x .055″ (1.4mm) x 22.5″ (57.15cm)
More Details
very slight defects.
While originally made for musical instruments, experienced woodworkers can use this foras inlay banding to add character to their projects.

White fiber (.030″) x .200 x 22.5″ - bundle of 100 pieces
More Details
White is "off", slightly yellowed

White fiber (.030″) x .200 x 22.5″ - bundle of 37 pieces
A few pieces are slightly dirty but will clean up nice
More Details
W/Blue/W (10/20/10) (.040″ overall) x .065 x 34.5″ - bundle of 100 pieces
Koa/mpl/RW roping (~.150 ropes with .090″ core and B/koa 10/24 on both sides x .075″ x 34.5″ - bundle of 25 pieces
Mah/Mpl Chevron w/B/Mpl/B/Mpl outside ~.200 x .140″ x 22.5″ - bundle of 15 pieces
More Details
Minor defects; some laminate separation in center of strips
Remember! There is a $50.00 minimum purchase when

ordering online

.
Online items are either in-stock and/or not subject to a drawing fee.
All other items may be considered custom.