Products Page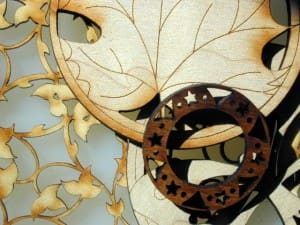 At times we have items returned- "the color's not quite right" or "that's not what I meant by 'Herringbone!'" or we used black fiber instead of black Pearwood or we made too many... you get the idea. This is YOUR chance to pick up these quality items and help us make some room for our vast inventory (we DO have limited space here on the GI barge) at sometimes HUGE savings. Please have a look at what's available and ask questions if you're not clear about a product.

"Diamond" ZigZag strips - rosewood and maple, .040″x .375″ x 36″ - bundle of 20 pieces
Whoops! We accidentally reversed the accent strips on the outside edges.
Abalone dots, approx 3mm (.12″)  x  1.3mm (0.050″)
11-49 dots> $0.21 each

50+ dots> $0.14 each
Customer ordered, then changed their plans- so you win!
Sold as sets- 3pcs in each set to make a full rosette!
.060″ (1.5mm) thick x .080″ wide abalone laminate cut to fit a 5.50″ rosette channel.
Quantity pricing for this item:
1-4 sets > $26.25 each set

5-9 sets > $24.35 each set

10 sets+ > $21.85 each
More Details
Three pieces put end-to-end make a perfect circle that has an inside diameter of 5.50". The width of the channel should be about .084" for a tight fit. For a smaller diameter rosette, the pieces could be manipulated by lightly breaking the laminate as you fit them.

Black and maple furniture zipper - .150″ x  .020″ x  22″ - bundle of  29 pieces
More Details
ragged edges, imperfections in pattern, great for use as inlay banding on woodworking projects, really thin and flexible
Black-dyed wood / Sycamore / black-dyed wood  20/ 40 /20 x .100 x 34.5 - bundle of 45 pieces
Note: Sycamore is made of two .020″ veneers; there is a slight seam between the veneers

Black/maple J-200-style ladder pattern inlay strip with alternating large/small rectangles, bordered by black and maple exterior lines - bundle of 20 pieces
Dimensions: .215″ overall width (5.4mm) x .055″ (1.4mm) x 22.5″ (57.15cm)
More Details
very slight defects.
While originally made for musical instruments, experienced woodworkers can use this foras inlay banding to add character to their projects.

Boxwood Cribbage Pegs
11-49 pegs> $0.15 each

50+ pegs> $0.10 each
Remember! There is a $50.00 minimum purchase when

ordering online

.
Online items are either in-stock and/or not subject to a drawing fee.
All other items may be considered custom.