Products Page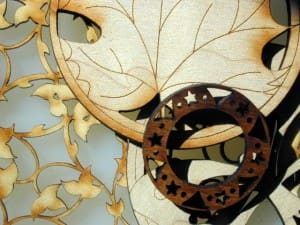 At times we have items returned- "the color's not quite right" or "that's not what I meant by 'Herringbone!'" or we used black fiber instead of black Pearwood or we made too many... you get the idea. This is YOUR chance to pick up these quality items and help us make some room for our vast inventory (we DO have limited space here on the GI barge) at sometimes HUGE savings. Please have a look at what's available and ask questions if you're not clear about a product.
Abalone dots, approx 3mm (.12″)  x  1.3mm (0.050″)
11-49 dots> $0.21 each

50+ dots> $0.14 each

"Diamond" ZigZag strips - rosewood and maple, .040″x .375″ x 36″ - bundle of 20 pieces
Whoops! We accidentally reversed the accent strips on the outside edges.
Remember! There is a $50.00 minimum purchase when

ordering online

.
Online items are either in-stock and/or not subject to a drawing fee.
All other items may be considered custom.