Products Page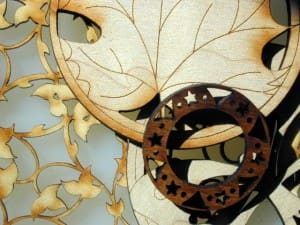 Rosettes can be simplistic or highly decorative. Here is a chance to pickup some of over-runs and one-offs for a steal!
Multi Colored Herringbone Rosette: approx 3.187″ I.D. x .50 x .060  - bundle of 17 pcs,
Contains: black fiber, white fiber, walnut, paduck, mahogany, cherry
More Details
minor defects, still great for use in smaller guitars or ukuleles
Customer ordered, then changed their plans- so you win!
Sold as sets- 3pcs in each set to make a full rosette!
.060″ (1.5mm) thick x .080″ wide abalone laminate cut to fit a 5.50″ rosette channel.
Quantity pricing for this item:
1-4 sets > $26.25 each set

5-9 sets > $24.35 each set

10 sets+ > $21.85 each
More Details
Three pieces put end-to-end make a perfect circle that has an inside diameter of 5.50". The width of the channel should be about .084" for a tight fit. For a smaller diameter rosette, the pieces could be manipulated by lightly breaking the laminate as you fit them.
Remember! There is a $50.00 minimum purchase when

ordering online

.
Online items are either in-stock and/or not subject to a drawing fee.
All other items may be considered custom.